Michael had issued Mrs. Ma the rights for the MJ Money bank trade mark 'Family Friend', designed by Ma's company 'Reema International' and licensed by Michael company 'Triumph International Inc'.
The phases 'All for one = One for all', 'All for World = World for all' on the packaging was Michael's concept of an ideal world of an universal mutual love for all.
After inserting the first coin, you will hear Michael's message:" I love you very much!",
when inserting the second coin, wait for the first coin to drop, you will then hear "Let us all heal the world!"
Michael wanted to encourage people to save, to help the world's disadvantaged children. He even thought of a letter displayed on the packaging as an gift idea to spread the message. (see photo below)
More information can be found in the photos below, which show the packaging of MJ money bank. The background also shows images of Michael and the twins on the History tour in Durban, South Africa.
Part 5. Jocy Ma's heartfelt letter to Michael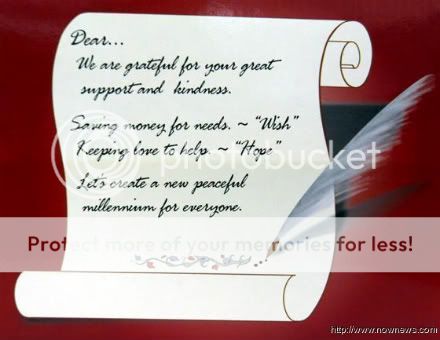 Michael came up with the message
Source: nownews.com